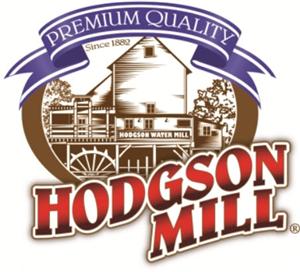 Hodgson Mill® is a family-owned company with more than 125 years' experience producing all-natural, delicious, healthy, stone-ground whole grain and organic foods made from premium quality ingredients and milled in small batches to retain each grain's nutritional benefits. Working hard to produce healthy food for its customers, Hodgson Mill® has mastered the creation of delicious whole grain flours, baking mixes, hot cereals, and pastas.
Hodgson Mill has challenged bloggers to participate in the "Build A Better Pizza" Facebook contest. Bloggers were encouraged to put a healthy spin on their favorite pizza recipes using high-quality Hodgson Mill
Whole Wheat Flour
to create a delicious homemade crust and I happily agreed to participate. My husband and I worked together in the kitchen and made Broccoli Cheese Fettuccine Pizza. It was a creation we've never tried before but the ingredients worked together wonderfully to make a tasty pizza. The whole wheat homemade pizza crust added to the deliciousness.
I used Beef Crumbles pizza toppings, whole wheat flour, light fettuccine sauce, sugar, dry yeast, and baby broccoli florets as ingredients for my pizza and crust.
The recipe I've created is on the contest tab of the Hodgson Mill Facebook page. The blogger who has the highest-voted recipe will win a prize. Additionally, anyone who votes in the contest will be eligible to win their very own prize. Ten voting Facebook fans will be chosen at random to receive $25 in Hodgson Mill products.
The first step was creating the homemade pizza crust with the whole wheat flour. After kneading it into a ball, we covered it and let it sit for 15 minutes before using it for the pizza.
Broccoli Cheese Fettuccine Pizza
Ingredients:
Hodgson Mills Whole Wheat Flour
1 package Dry Yeast
2 cups baby broccoli florets
2 cups light fettuccine sauce
1 cup cooked beef crumbles
2 cups Velveeta Mexican cheese
Directions:
Preheat oven to 400 degrees.
Prepare whole wheat pizza crust using directions on back of Hodgson Mills Whole Wheat Flour package.
While dough is waiting to rise, cook broccoli over stove top and soften Mexican cheese in microwave.
When dough is ready, spread it out on a non-stick pan or pizza dish.
Spread fettucini sauce over top of crust, then add cheese to the top of that.
Sprinkle beef crumbles and broccoli on top.
Place in oven and cook for 20 minutes or until crust is golden brown.
Win It!
One person will win a
Hodgson Mill
pizza prize pack that includes Whole Wheat Flour, Active Dry Yeast, Yellow Corn Meal, and Naturally White Flour.
*This is a Rafflecopter giveaway open to residents of the USA.*
I received products for review and to create my own pizza recipe. The opinions within this post are of my own and I was not influenced in any way. Please do your own research before purchasing products or using services. Your opinions and results may differ.
a Rafflecopter giveaway