I absolutely believe that positive reinforcement is a factor to raising confident kids. It's not the only factor, but it's a big one. Kids want to know that you love them and you are proud of their successes. I have six kids, some who are academically better than others. One is better in sports while another does well in general studies. I don't compare one to the other but want each kid to know how I feel about their individual achievements.
Hallmark can help you stock kids up with the support they need to refuel their emotional well being as they head back to class.
Hallmark
has back-to-school merchandise that adds "confidence" and "encouragement" next to those necessary classroom supplies.
Hallmark Kids Collection greeting cards feature kid-appropriate topics from managing difficult academic or social situations, to achieving a personal goal in the classroom or on the field. Hallmark also has "any day" greeting cards for kids, some featuring music sensation Justin Bieber. Bug'Em is a pint-sized plush that can hold cards and other tokens of encouragement and give an unexpected lift to any youngter's day.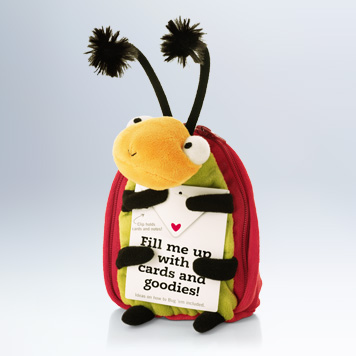 I may be old-fashioned but I still like to send cards to acknowledge occasions and achievements. The Kids Collection greeting cards are a fantastic way to let your child know you're thinking of them and care about their success. I'll be using the cards I received throughout the school year to let my kids know what I think of them. Emma, my youngest step-daughter, is a fan of Justin Bieber so she'll be super excited to receive cards with a picture of him on front.
Bug'Em is a plush ladybug that holds a card in front with its hands and its backside is a zippered pouch that opens to put trinkets and goodies inside. It's super cute and a thoughtful way to show someone you're thinking of them.
Win It!
One person will win a pack of Hallmark's Kids Collection greeting cards, Hallmark "any day" greeting cards, and a Bug'Em plush.
*This is a Rafflecopter giveaway open to residents of the USA.*
I received products for review. The opinions within this post are of my own and I was not influenced in any way. Please do your own research before purchasing products. Your opinions and results may differ.
a Rafflecopter giveaway