The 2nd Edition of the popular Discovery Girls book series has arrived. Discovery Girls Middle School Survival Guides deliver the best strategies so girls can successfully deal with friendship troubles, embarrassing moments, life's toughest problems, body issues, school pressures and much, much more. All of the books reinforce the power of girls to overcome disappointment, develop positive images about themselves, seek the right kind of help, talk to their parents, and learn how to grow from failures.
Emma and Juliann are two of my tweens starting a new year of school in just a few days. Each child always has fears and concerns but they seem to escalate in school. And as much as I push my advice on the kids, they are still going to listen to their peers once in a while. The Discovery Girls Middle School Survival Guides are helpful and insightful books that Juliann and Emma can turn to when they have questions or fears about certain situations. Each book is approximately 100 pages. The girls have read all four books front to back and like how they are formatted specifically for them, with advice and tips.
'My Worst Day...and How I Survived It' has inspiring stories from girls who have overcome tough times. There are several stories of girls facing tough situations and how they came out stronger and better in the end.
'Sticky Situations...and How to Get Through Them' helps girls by giving them answers to tricky situations they may face, from what to do when your BFF blabs your deepest secret to how to handle being stranded at the mall.
'Ask Ali: All the Advice You'll Ever Need' has Ali, Discovery Girl's Advice Columnist, giving girls advice on issues ranging from issues with family and friendship to issues with school and boys.
'Friendship Hardship' shows girls the difference between good and bad friends and breaks down solutions to friendship problems.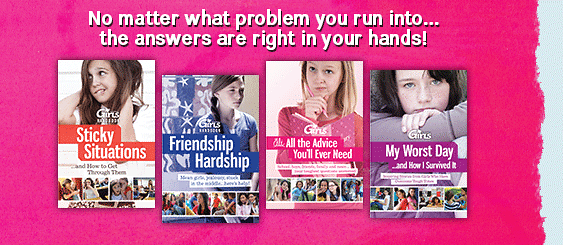 Win It!
*This is a Rafflecopter giveaway open to residents of the USA.*
I received products for review from

Discovery Girls

. The opinions within this post are of my own and I was not influenced in any way. Please do your own research before purchasing products. Your opinions and results may differ.