I love to present my children with nice things, just buy an item for them with no strings attached. BUT, there's also a balance. They don't always get what they want without working for it.
Specified allowances are not a part of my home, but the kids know they have to do chores around the house to get money for some items. I am blessed in that my kids are hard workers and will work for what they want, with little or no complaint. Consider it bragging, if you will. I may not be perfect in all areas of motherhood, but I'm proud that I've passed the value of a dollar on to my children.
Two of the kids are teens. Having instilled working for your money at a young age, it's not difficult to get them to save up money or use it wisely. However, I'm still their momma and I don't let them just spend it frivolously. Communicating with my teens about money is as important today as it was when they were younger.
The oldest teen, Shelby, got a car a few months ago. I didn't pay for it. She got a loan and now works two jobs to pay for the car payment and gas. The same will apply to the other teen when she gets her license in a few short months.
Here are a few tips on communicating with your teen about financial responsibility:
1.
Start Early.
It's harder to change a teen's mind than it is a child's. If you teach them early about coupons, sales, and working for their money, they get into a mindset that will help them in their adult life when they are on their own.
2.
Keep track of your teen's spending habits.
My daughter may have jobs, but she still lives under my roof. I make sure the car payment gets taken care of first, before the extra money gets spent. And even with the extra money, I'll ask what she's spending it on.
3.
Make them work for it once in a while.
Whether you give your teen an allowance or have them do general chores, it's important to make them work for money once in a while. More gratitude is shown and the item seems more special if they have bought it themselves, whether with their own money or buy working it out in trade.
4.
Discuss finances with your teen
. Make it one of the talks that's as important as the other talks involving life.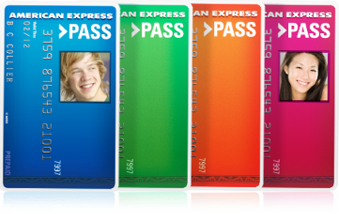 5. Give them a prepaid reloadable card. PASS from American Express is a prepaid reloadable card that parents give teens. Unlike a debit or credit card, teens can only spend what's preloaded on the card. PASS can be used at millions of locations around the world, in stores and online. You can view transactions, set up alerts, and check the card balance in the online account. Purchase protection and roadside assistance is included with the card. With PASS, teens can also become "financially certified" through an online assessment. The card can be customized with an image and color chosen by the teen.
I wrote this review while participating in a blog tour campaign by Mom Central Consulting on behalf of American Express and received a gift code to thank me for taking the time to participate. The opinions within this post are still my own. Please do your own research before purchasing products. Your opinions and results may differ.