Traci66 is again hosting Tell Me More Tuesdays, a meme where you answer questions that are asked. If you have any questions that you'd like included, be sure to email her and she will include them in a future list.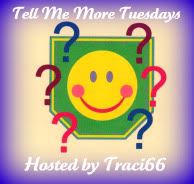 >
1. Can you swim?
I'm a fairly proficient swimmer, so it's not wading through water that gets me. My problem is that I tend to get bad ear infections when my head has been submerged in water. Every time I think I'll take a dive, I pay the price.
2. Is telling a lie ok?
I'd be a liar if I said I didn't occasionally tell a white lie. People do it all the time, whether they think they are or not. Some people even believe their lies so much that they make it into their own truth. With a far stretch of the imagination, this would be an honest and truthful world. Realistically, it's far from. With that being said, I try my best not to lie or be untruthful in any way. There's just the occasional slip-up.
3. Do you have any body piercings?
Right now I just have my ears pierced, but I rarely wear earrings. I used to have my tongue pierced...which I'd do again in a heartbeat if the fact that I work in communications wasn't an interference. I couldn't talk right for eight days the first time I had it done. I've also had my nose and above my lip pierced.
4. Are you related to anyone famous?
Um, possibly Jack Daniels but that hasn't been verified.
5. Do you have any tips on approaching companies about sponsoring reviews and/or giveaways?
Do your research on the company. Just as we don't like to receive mass emails with no specific rhyme or reason, I doubt they do either.
6. What is the best thing you have ever won?
The best thing I won was my wedding. Yes, my wedding! Almost eight years ago I was driving down the interstate listening to a radio station, waiting for info on area haunted houses. During that time frame, a commercial came on indicating that seventeen couples would win a wedding at Six Flags St. Louis. I went home and signed up online. A few days later I received the call that I would be getting hitched during Fright Fest. I then informed Jason that our wedding plans had been moved up. Kind of threw him for a loop, but he was all right with it. Good thing he agreed; It would have been kind of weird to show up for a wedding sans solo. On October 4, 2002 we were able to get married and have a reception for free with ten guests. We also received a free stay at a local bed and breakfast.
7. Is sex ok before marriage?
I don't condone it, but I'd be a hypocrite if I said I waited. I'm a teenage pregnancy statistic myself. Here's knocking on a whole wood pile that it doesn't happen with any of my brood.
8. If you borrow something for someone should you return it? And in what shape?
I make a sincere effort to return things that I borrow, in the same condition that it was given.