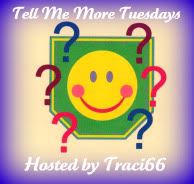 >


Last week Traci66 started a new blog meme called Tell Me More Tuesdays. This week she has created an official button for it. Every week she will post eight questions that readers can answer and include in their own post to link up. She will also be taking questions from readers so they can be used for future inquiries.

1.Other than your marriage or the birth of your kids, what has been the happiest moment of your life?
I honestly don't know of happier times.

2. Do you use coupons regularly when shopping?
I am amazed at how some people can use coupons so well that they spend literally no money. Someday I hope to achieve that status. I'd say that I'm a moderate couponer. I get the Sunday newspapers for the coupon inserts. I also have a coupon organizer that I take to the store with me. I normally use coupons on items when they are on sale so I can get even more of a discount.
3. Would you consider yourself to be a frugal or extravagant spender?
I will, on rare occasion, spend an extravagant amount on something. For the most part though, it's all about being frugal. I live paycheck to paycheck and don't have the extra money to spend. Therefore, my radar is always on for the sales and bargains. I buy store clothes off season, food when it is on sale, and dress my kids in yard sale finds.

4. Are there any magazines or written publications that you regularly read?
I subscribe to All You and read it regularly. It's a great source for coupons. I used to read People and Reader's Digest all the time, but it was an expense that had to be cut.

5. Do you host any blog hops or memes?
I co-host Keepin' Company Thursdays with Traci66.

6. Are you glad school will be starting soon?
Absolutely not! Quality time with my kids is precious and I don't look forward to handing them over to someone else.

7. If you were to win the lottery, say 1 million dollars, what would you do with it?

I'd pay off bills, then I'd buy a biiiig, fancy-dancy camper.

8. When and where did you get married? Or are you planning to get married soon?

The first, second, or third time?? The first two were to the same guy. Yeah, it was one of those marry, divorce, marry, divorce deals. Me and Jason got married in October 2002 at Six Flags St. Louis during Fright Fest. We won our wedding as part of a radio promotion and were married with 17 other couples. I was dressed in a black dress adorned with feathers and a black veil. Jason was costumed as a mummy. Fun, exhausting, and one-of-a-kind. And we've still stuck with each other, almost eight years later.