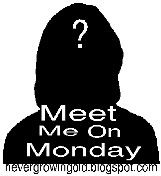 Meet Me On Monday is a fairy new meme hosted by Never Growing Old. This is the second edition of this meme. It was started out as a way to get to know bloggers on a more personal level.

Every Monday five questions are posted that delve into our personal lives. You answer the questions, then add your post to the linky.
The five questions for this week, with my answers are:

1. How many brother and sisters do you have?
I have two brothers, one just almost two years younger than me and another who passed away when I was quite young. I have no memory of him. I also have three older sisters, two of whom I'm quite close to. As for the third one, it's touch and go. I didn't grow up with my sisters because they're at least ten years older than me, so it was me and my brother in the household for many years. He and I were partners in crime. Now that I'm older, I'm quite close to two of the sisters.

2. What is your favorite thing to do?
From April to November it's all about camping. I love going to the campground and socializing and spending time with family/friends. We are up there so much that I almost forgot what my actual home looks like!

3. What countries have you visited?
I've never been outside the USA.

4. Are you a morning or a night person?
Me and the morning are not friends. I'm a total night owl. A lot of that is due to the fact that I work late shift.

5. What is your favorite cereal?
Honeycombs is my favorite, but I'm not real picky with cereal. I enjoy eating it for a snack.