Flowers seem to brighten anyone's day. They are a special reminder to show someone we care.
I recently held a giveaway for a bouquet of
Teleflora
flowers and #127, ohhhfire, was the lucky winner. She has picked the Paradise Found bouquet to send to someone special in her life. I won't tell who the special person is in case they run across this blog, but I think it's a nice gesture and I'm sure that person will really like the beautiful bouquet.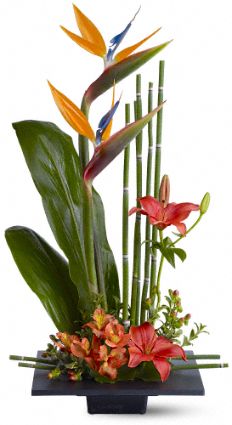 Paradise Found bouquet
For over 75 years, Teleflora has worked with florists to bring beautiful arrangements to homes everywhere. Same-day delivery is available on almost every order and Teleflora guarantees satisfaction with every gift order. Every arrangement is personally designed by a florist in your recipient's neighborhood. There is the option to sort for the floral arrangement you need by color, price, occasion, and collection.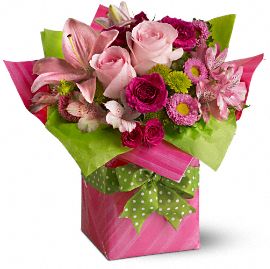 For Shelby's 16th birthday party she received the Pretty Pink Present bouquet. I wasn't home when the florist came with the bouquet but Shelby was. She immediately texted me by phone to let me know it was the prettiest bouquet ever and she loved it.
The bouquet she received was a centerpiece on one of the tables at Shelby's birthday party. There was an assortment of flowers and it was adorned with a green and white polka dot ribbon. It's been a week since she's received her flowers and they're still as pretty as when she received them. Shelby has taken great care in preserving her flowers for as long as she can. Eventually they will die as all fresh flowers do, but she'll be able to keep the ribbon and vase as a reminder of her Sweet Sixteen.