Here's a list of a few fantastic blog giveaways being held at other blogs right now:
PartyLite
candles and home accents are designed to work together to bring you everything you need to transform your home. Enter to win a Lavender Teddy and a Wax Filled Tin at
Life With 5 Monkies
. Ends 3/17.
London Bridge Children
offers unique bedding, art, gifts, and decor. Enter to win a 11"x14" Personalized Art Print at
Minnesota Mama's Must Haves
. Ends 3/24. You can also enter to win at
"Deal"ectible Mommies
. Ends 3/27.
Bright Starts
is dedicated to delivering products that inspire a child's confidence and curiosity. Enter to win choice of Automatic Bouncer, Portable Swing, Playard, or Cradle & Sway Swing from the Ingenuity Collection at
Minnesota Mama's Must Haves
. Ends 3/18.
Repax Bags
are reusable shopping bags that are eco-friendly and easy to carry. Enter to win a set of Repax Bags at
My Four Monkeys
. Ends 3/22.
Convertible Designs
is a children's specialty store filled with unique clothing, toys, and gifts. Enter to win a Lovely Ladybug Purse at
Fun and Funky Mommy
. Ends 4/10.
Chef'n
makes better kitchen tools so you can make better food. Enter to win a Slicester for cheese at
A Nut In A Nutshell
. Ends 3/23.
Eden Home
is committed to being the one place you can find a complete selection of organic brands. Enter to win a $35 gift certificate to Eden Home at
Piece of ME
. Ends 3/24.
Mystic Wonders Inc.
combines years of knowledge and ability to design, formulate, and enhance everyday products. Enter to win a Complete Laundry System at
The B Keeps Us Honest
. Ends 3/21.
Through
Cahootie
's award-winning folded paper products, they aim to deliver an experience of fun, learning, and connection among Tweens and their families and friends. Enter to win 2 Cahooties of choice at
The Mom Reviews
. Ends 3/21.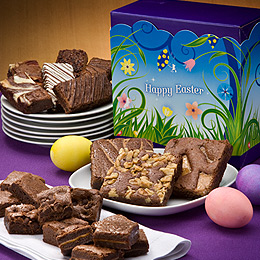 Fairytale Brownies
is a premier gourmet brownie gifting company. Enter to win an Easter Medley assortment at
Barefoot Mommies
. Ends 3/28.