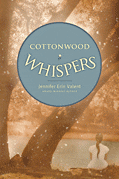 Book Synopsis:
In this sequel to Jennifer's award-winning debut novel
Fireflies in December
, Jessilyn Lassiter and her best friend Gemma Teague have survived prejudice and heartache in their lifelong friendship, but the summer of 1936 threatens to tear them apart yet again. Gemma's job with the wealthy Hadley family leads to a crush on their youngest son. But Jessilyn's insistence that he's no good and that no rich white man would ever truly fall for a poor black girl like Gemma puts them at odds. Tragedy strikes when Jessilyn's cherished neighbor girl is hit by a car and killed. Things get worse when an elderly friend is falsely accused of the crime, and the only way to clear his name is to put her family's livelihood in jeopardy. For Jessilyn, this is a choice too hard to bear and she wonders where to turn for answers, especially when an angry mob threatens vigilante justice. Jennifer's third book,
Catching Moondrops
, releases in Fall 2010.
My Review:
Although this book is a sequel, it stands alone on its own. It's not one that you have to read the others to get a full grasp of. The dialogue was easy to follow and the characters were relatable.
The main character, Jessilyn, is in the throes of finding out what it is to be a woman and yet she still exhibits childlike behavior. It was interesting to read how her demeanor and behavior started one way in the book and gradually changed in the end.
I like to read and can get lost in a good book, but few move me to tears. I actually shed a few during one particular moment in this book. There is one particular character in the book, Mr. Poe, who I admire for his faith and courage.
I did not realize that
Cottonwood Whispers
is a sequel and am most interested in reading the first one,
Fireflies in December
. This is a town and family I'm intrigued in reading more of.
I received a copy of this book for review from Tyndale Media Center. The opinions within this post are of my own and I was not influenced in any way. Please do your own research before purchasing products as your opinion may differ.